Vitemölla. A dreamy party from one day to another. Carin and Claes introduced me to Österlen's finest. Land meeting ocean. Heavy clouds and sparkling sun. Butterflies and confetti. And all the emotions on top of that.
Österlen is one of the most popular summer spots in Sweden and some lucky people have summer house here. Like Claes parents. So, to have a wedding on Österlen was a natural choice for Carin and Claes.
When I arrived at Vitemölla Badhotell, a slightly nervous Claes welcomed me at the entrance. After a big hug (hugs are extra awesome on a wedding day) I headed to the suite where Carin and her bridesmaids were getting ready. Normally Carin is a chilled out person but that day the presence of "butterflies in the stomach" was clear. Luckily she had her awesome crew who were just the support she needed.  The smartest thing you can do on your wedding day is to surround yourself with the best people. After some Champagne cheers I went to Claes and his best man to check their pulses. The butterfly feeling was in this room too and we really looked forward to get started with the first look.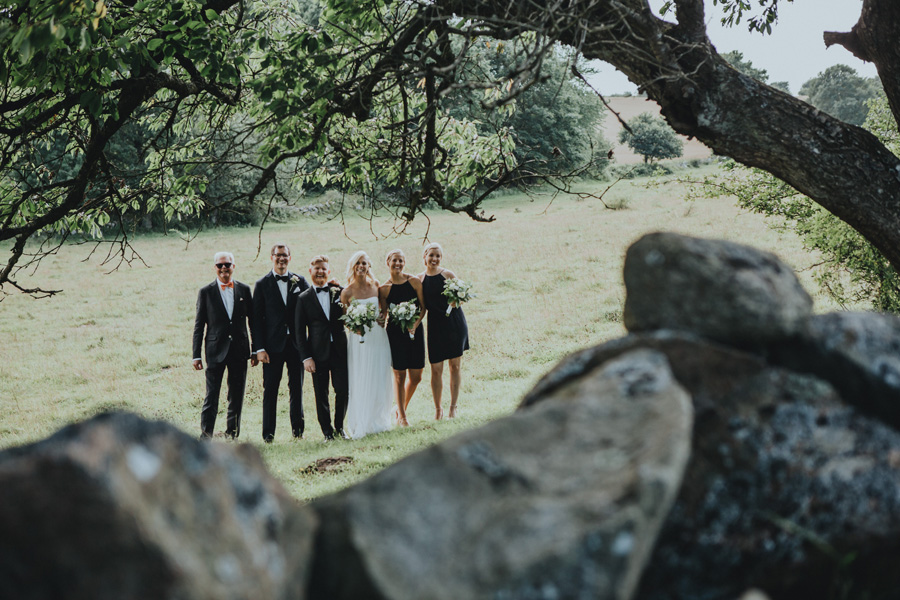 First look = setting the emotions free. We decided to have first look on the beach just outside Vitemölla Badhotell. Claes was waiting for his bride and you could almost touch the excitement in the air. Carin was nearly running towards him and when they finally were in each others arms, they couldn't keep the tears from flowing. After that moment everyone became more relaxed. So we drove to the next location for more photos. Haväng gave us really gorgeous shots (like the one with the butterfly!?!! – it was like the butterflies in the stomach finally flew out) and after a quick lunch it was time to head to the church.
Ravlunda church was built in year 1200 and is placed high among beautiful fields and the ocean not far away. Inside the church the seating area is quite narrow around the altar so all the guests had to sit tight together to be able to see. This gave the whole ceremony a very warm and personal feeling which suited the ambiance of the wedding.
The rest of the day was filled with surprises and all their guests contributed so splendidly! After dinner it was completely dark outside. It was time for the next surprise – sky lanterns! They lit up like fireworks – soundtracked with laughter and sea breeze. Back at Vitemölla Badhotell the wedding cakes were ready to serve the best sugar rush for a long lasting party. While the guests were having cake, Carin and Claes started the wedding dance. They gave everybody a heads up. "Eat up and come dance with us!"
After that it all went fast. After snapping some dance photos and the photo of Carin's parents on the dance floor (one of my favourite party pics ever) I knew I'd nailed it. Time for me to drive home..  Thank you Carin and Claes for taking me along on your special day and for introducing me to your amazing friends & family and to the magic of Österlen. Thanks to you I want to do more weddings here. All luck to you and I hope to see you again. ♥
Makeup & Hair: Face by Linda
Bride's shoes: Heelow
Groom's suit: Pelote
Groom's shoes: J. Crew
Rings + Bride's earrings: Guldmakeriet Malmö
Flowers: Blomsterkungen Number One, Simrishamn
Venue: Vitemölla badhotell
Cake: Sophies of cake